Aren't all notifications important?
Update the software to the latest version? New WordPress release is coming? Another business proposal from the web studio? If you ignore such notifications, they tend to accumulate. The next thing you know is the admin bar is not a cozy workplace anymore. Instead, it looks like a messy closet where you can barely find what's really needed. We all know that most of these notifications are ads sent by developers, who offer you another great opportunity, last change, super discount on premium access and so on.
You can disable notifications in the WordPress admin bar manually, but soon enough they will pop up again and go back to ruining your admin bar coziness.
How to get rid of annoying notifications
We recommend you to install Disable admin notices individually. This free plugin disables all promo- and updates-related notifications. So you can stay focused on your primary tasks.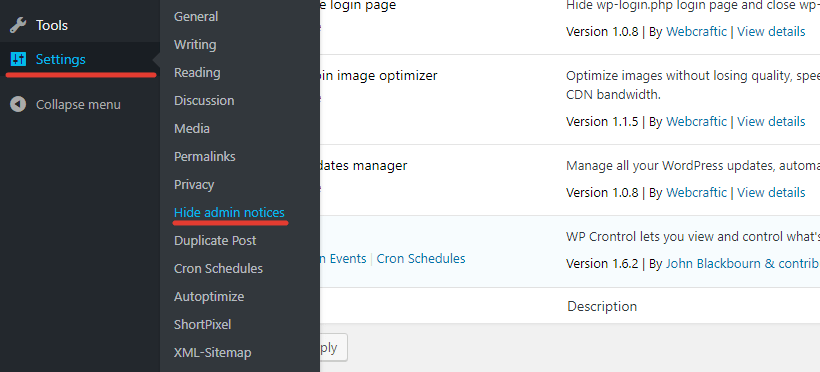 Disable all notifications
There is a corresponding button All notifications in the Hide section of the plugin settings. However, the Webcraftic company doesn't recommend to disable all notifications. This way you can miss important updates from WordPress. And missing this kind of updates can cause you big problems with plugins and website performance.

Check the Enable notifications in the admin bar option to monitor information about updates or warnings. All unread notifications will be stored in the Notifications tab at the top of the page.
If you've opened a tab, read all notifications and didn't find any useful ones press the Reset hidden notifications button.
Disable selected notifications
Our developers recommend you to hide selected notifications. Go to the Hide section of the plugin settings and press Only selected. This will activate the feature.
Now you will stay tuned to all important updates and won't waste time on junk messages.

NOTE: These options are marked with the green "?", which means that they won't corrupt the website.
Don't hide notifications
If you've decided to keep all notifications then press Don't hide.

Don't forget to Save settings then.
Conclusion
Disable admin notices individually is the great solution for webmasters and bloggers who use dozens of WordPress plugins daily or have more than one website to support. It is better to protect yourself from useless notifications rather than to hide them manually.