If you use WordPress, then you should keep in mind that genericity of CMS has its own downsides, such as all these extra features you don't really use. For example, you don't need blogging system, widgets, comments and lots of other stuff on the landing.
Extra features makes your website heavier and unfriendly in terms of usability and promotion. Sometimes you spend many hours and resources trying to solve the issue, but after all, end up finding out that the solution is not effective. Many plugins produce even more load compared to the previous state of the system. Plus freelance services require an actual freelancer to provide prompt and permanent technical support and make sure that his code wouldn't damage the website after another WordPress updates.
In our article, we are going to talk about free basic WordPress optimization plugin. It disables unwanted features and notably extends capabilities of such popular optimization plugins, as Yoast SEO, Autoptimize, Wp super cache and so on.
Guys from Webcraftic have been developing custom themes and plugins for a while now; and their extensive experience helped them to collect the most important and useful features for the WordPress optimization in one plugin named Webcraftic Clearfy.
This plugin actively develops, paying much attention to the basic WordPress optimization. This means that you will no longer need to search for the guides or go through tons of articles teaching you how to optimize the websites right. All the necessary features are already combined in one plugin.
You should install this free optimization plugin on the empty website. Then, choose the necessary tools and select optimal configuration of the website. Save the settings and transfer them to other projects in no time.
What should be optimized on the website?
Transliteration of links and file names;
Removal of all duplicated pages (not all SEO plugins can do that);
Adding "Last modified since" titles;
Hiding external links;
Setting up "alt" attributes for images by default;
Fixing errors in the sitemap;
Hiding traces of using WordPress;
Cleaning the code from junk;
Fixing SEO errors;
Reducing the page's weight;
Lazy-loading of recourses;
Disabling comments;
Disabling blogging system;
Disabling admin panel;
Disabling WordPress heartbeat;
Disabling auto-save options for posts or limiting revisions;
Disabling individual updates;
Disabling annoying individual notifications;
Disabling unused metaboxes;
Disabling unused widgets;
Disabling unused post types;
Disabling unused fonts;
Disabling unused styles & scripts, duplicated scripts, styles and fonts;
Disabling external services (emoji,embeds, XHTML Friends Network, wlwmanifest);
Disabling REST API;
Disabling Gutenberg (new WordPress editor).
The list can go on and on, as it's very long. Webcraftic Clearfy helps to solve all of these tasks. Since other popular optimization plugins can't do all of this separately, it will be better to extend them with Clearfy.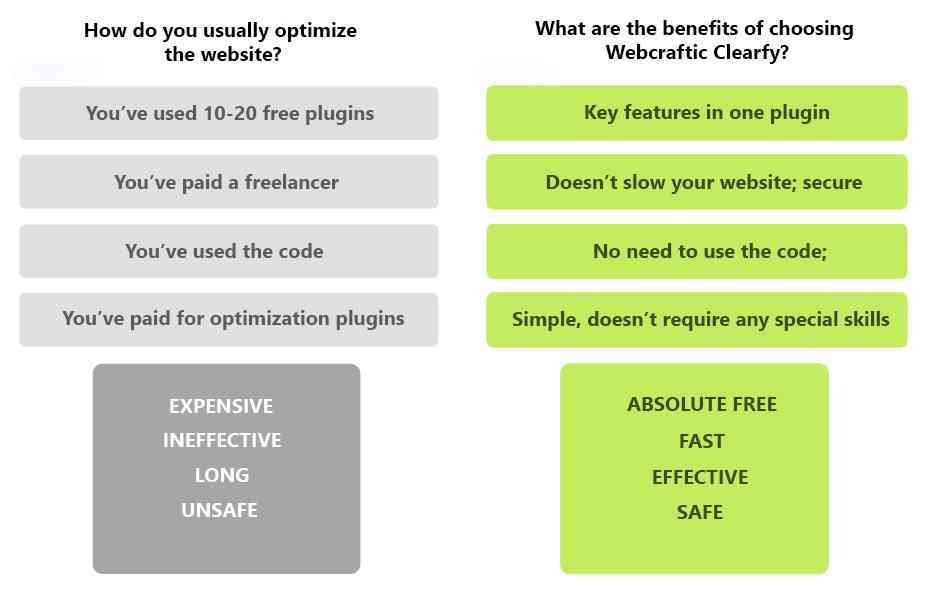 Why is it bad to optimize your website with dozens of plugins?
We all know that each plugin has its developer. But not all developers are highly-skilled in creating WordPress plugins. That explains why the huge amount of plugins that you use are poor optimized, rare updated and, most likely, vulnerable.
Webcraftic Clearfy has already accumulated vast amount of other plugin's features. They are optimized and can be cached; the code is protected from vulnerabilities. Plugin updates on the regular basis; all updates are tested by professional team of developers.
Why is it bad to delegate your website optimization to freelancers?
Freelancer can optimize your website very well or very bad – it's a matter of luck, because you can't estimate his skills upfront. It will be a one-time service for the one website. But what if you have more than one website? Then you'll have to pay for each optimization. New WordPress updates may bring you another pain –  the code written by a freelancer can no longer work, so you'd have to search for another specialist and pay for his services again. You spend extra money and time.
Why is it bad to optimize your website using the code recommended by bloggers?
Not all bloggers are professional developers. In most cases, provided code has already been copied thousand times with zero updates. You can add a template code to your website and crash something. Perhaps, you wouldn't even notice external errors. But there are also internal error, which can really harm your website promotion. If you know nothing in programming and not 100% sure in the safety of this code, then why take such risks?
Why is it bad to use paid plugins?
Actually, it's not true, because paid plugins should have a way better support, as its developers are more motivated. Unfortunately, sometimes the situation is quite the opposite. Many plugins are rare updated and poor supported. If you think that the paid optimization plugin is better than Webcraftic Clearfy, then you are definitely under the wrong impression. Webcraftic Clearfy is supported and updated as often as the paid ones.
Using Webcraftic Clearfy is simple, effective and free
Optimizing page speed has never been easier before WordPress page speed optimization.
This wordpress site speed optimization plugin won't solve all of your problems, but we can help you to forget about typical issues (SEO, security, load) causing pain in each and every WordPress website.
WordPress speed optimization plugin has a nice and friendly interface.
There are prebuilt packages for the quick optimization settings available on the main page. (It's very comfortable if you don't have time for deep studying of the settings. But we still recommend you to carefully go through the features you plan to activate. None of the recommended settings will harm your website, but you can't achieve 100% optimization results without full knowledge).
Click "Apply" button. Then the plugin will offer you the list of changes that will be added after your confirmation.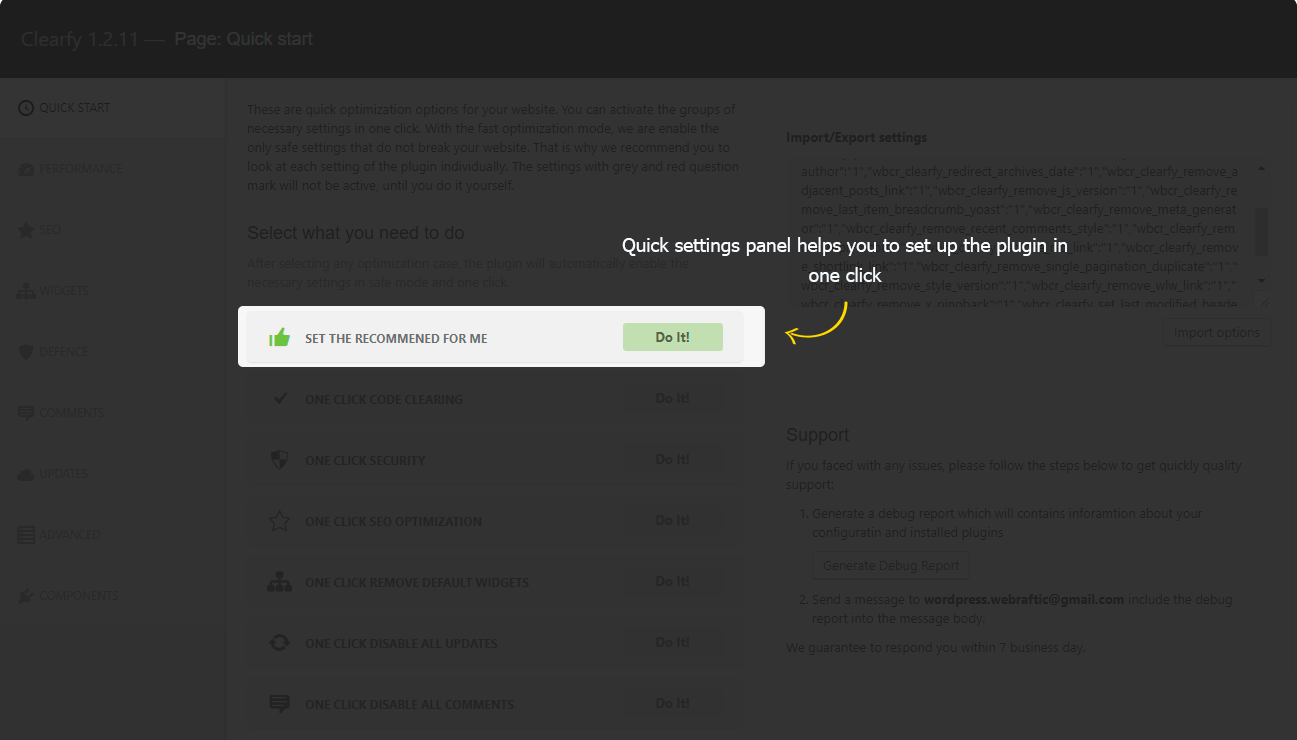 Once it's confirmed, the plugin will activate the list of recommended settings. The minimal optimization is done!
For more effective optimization, you should go through all settings. We've added details tooltips in English to help you choosing the right preferences. Each tooltip is colored. Red color means that you should carefully use this setting – it can damage something. Grey settings won't harm your website, but you should be absolutely sure that you'd like to enable them. Green settings are completely safe, but we still recommend you to read its description.
There are about 250 major functions available in the plugin, affecting SEO optimization, security and performance. This succinct plugin can easily replace up to 50 individual plugins created by other developers.
To maintain Clearfy's simplicity and quickness, our developers have implemented the plugin based on the components. It means that the product has been divided to small modules, producing zero load in the disabled mode. The result: you use only those plugin features, that you actually need. Period.
Example case: If you don't need to block comments and updates, you can simply disable these two components, so they won't load with your admin panel.
What project types are suitable for this plugin?
Honestly, all of them! The plugin is a great solution for quick launch of different projects on WordPress. For example, you can disable comments, blog, widgets and other features on your landing. When it comes to a blog, you can significantly improve SEO, fix bugs in blog promotion and improve the security.
Whatever project you are working on, the plugin will definitely save your time and money. It doesn't matter how skeptical you are when it comes to universal plugins; the idea remains the same – it's a constructor tool, and you decide its options and the usage!
For advanced users, there are embedded script and styles manager. If you used to disable scripts by going to the template or creating a sub-theme, or maybe even developed additional plugin to remove several lines, then you can customize disabling scripts and styles on either the selected page or the whole website using the friendly interface.
What are the usecases?
For example, your theme plugs in fontawesome icons. The installed plugin does the same. It means that you have two external libraries doing the same, but also increasing your webpage weight on 300kb. So it seems rational to disable one of the libraries.
There are also poor optimized plugins. For example, Contact form 7. This plugin loads its scripts to all pages, even though it is only used on the single page. In this case, you should disable all Contact form 7 scripts and styles, except those where the plugin is used. As the result, your pages are lighter and faster.
Let's summarize.
This popular plugin is used by 30+ thousand people worldwide and has 80+ positive reviews. People trust Webcraftic. And you should too!
We couldn't spotlight all plugin features, but you can find them after downloading this free plugin and setting it on your website (it's 100% safe). We are completely sure that you will find a lot of useful stuff in there. If you think any useful feature is missing, you can contact developers with the proposal and take part in the discussion.
You can download plugin and find its installation guide on the plugin developers' website.
Want to optimize wordpress site speed? Then install this plugin!